We may earn a commission for purchases using our links. Learn more.
I am an avid coffee drinker. Like, at least 5 cups a day. And I consider myself well-versed in excellent java. My husband playfully calls me our family's coffee connoisseur because I'm super particular about the way my brew tastes.
I rarely make coffee at home because I just can't get it to taste right… so I end up tossing it and buying a cup of pour-over from a local shop instead.
Recently, a co-worker of mine introduced me to Ratio: an at-home pour-over coffee brewing machine. She said:
it has 3 brewing cycles, but you only have to press 1 button
it looks nice in her kitchen
the coffee always tastes really good
All these things ticked my boxes and I wanted to see if it lived up to the hype… so I bought myself a Ratio coffee maker.
After using Ratio for 6 months… let me tell you why I love it.

But first… let's address the elephant in the room…
When I was researching which machine to buy, I noticed the cost. Ratio is not cheap, but neither are its premium materials.
I realized that I'm not just getting any regular coffee brewer. The Ratio Eight is a luxury coffee machine that's designed to sit on my kitchen counter and look like art while giving me fresh coffee flavors and a relaxing, time-saving coffee experience.
Ratio coffee machines are not like the ones you get from Target.
It isn't made from plastic and thin glass like the coffee machines you can get at a retail store.
It has a precision die-cast aluminum body with hardwood details. The one I chose comes with a beautiful handblown borocilicate glass carafe.
No stone is left unturned!
It even has a unique stainless steel spiral shower head that soaks coffee grounds in two different intervals, giving you the smoothest flavors and perfect pour over in under 10 minutes… so I never have to sacrifice quality because I don't have time!
Staff Pick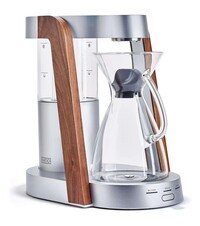 Perfect Pour Overs | One-Button Operation | Glass Carafe
An easy-to-use home brewer that replicates a barista-made pour over coffee.
What I Love About Ratio
Aesthetics It's made from durable precision die-cast aluminum & hardwood, and comes with a handblown glass carafe that looks stunning on my counter.
Easy Pour Overs Pressing one button gets you a smooth & delicious pour over in under 10 minutes. It me saves me so much time and makes my mornings stress-free.
Coffee Tastes Good Ratio coffee machines have a unique Bloom cycle that strategically soaks coffee grounds… the process gets rid of bitter flavors while extracting the tasty flavors.
5-Year Warranty Ratio cares about the experience you get and they believe in the quality of their coffee machines… so they're all backed by a 30-day guarantee and a 5-year warranty.
Staff Pick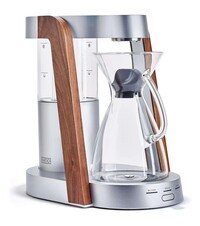 Perfect Pour Overs | One-Button Operation | Glass Carafe
An easy-to-use home brewer that replicates a barista-made pour over coffee.
Tested & Approved
Ratio's at-home coffee machines use 3 automatic cycles to make delicious pour over coffee in under 10 minutes with just one button. Plus, they're so beautifully designed, they look like a piece of decor in the kitchen.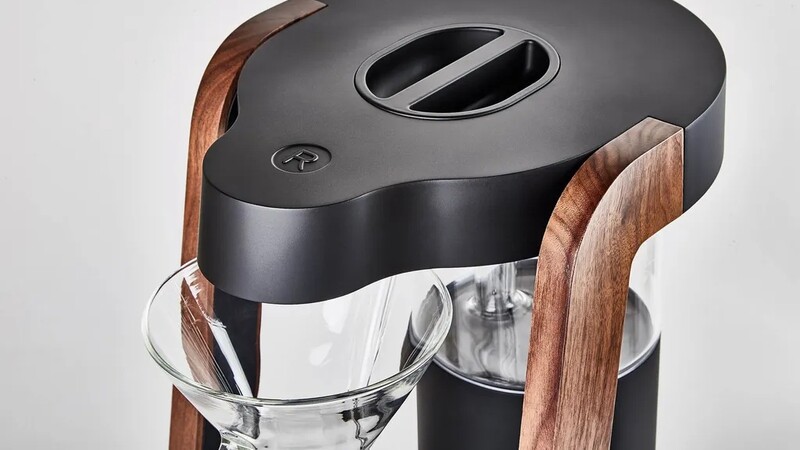 Unboxing the Ratio was easier than I thought
First of all, unboxing the Ratio coffee maker was super easy. I just pull it right out of the box, did a once-over with the included wash and microfibre cloth… and it was ready to go.
It came with a user manual that I didn't read… the brewer only has one button.
Plus, the Ratio website has more than enough information to help you get started.
My first impression
I was impressed by how minimalist the Ratio Eight looked. Even though it can make up to 40 ounces of coffee, the glass carafe and precision die-cast aluminum base looked sleek and pretty in my kitchen.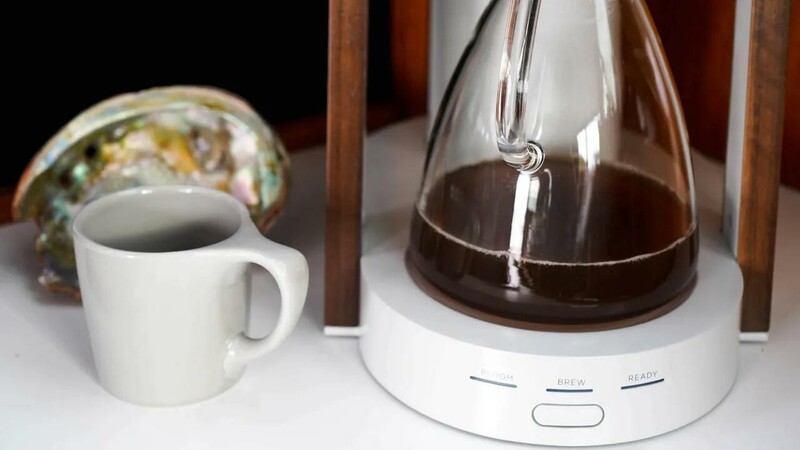 It makes an excellent pour over… and there's aways enough for a second or third cup
So Ratio uses something called a smart brewing algorithm that was designed to get rid of bitter flavors and make a smoother-tasting brew.
It actually does this through 3 automatic cycles.
Cycle 1: Bloom — Extracts coffee flavors & gets rid of bitter tastes
When you first turn this coffee machine on, it triggers the Bloom cycle. This setting heats the water to around 200 degrees.
Fun fact: This is apparently the temperature where most people enjoy drinking their coffee.
When the water is heated, some of it gets sent through a stainless steel spiral shower head to saturate the all of the grounds evenly.
After letting them breathe for about 30 seconds, the rest of the water is sent through. This is how Ratio extracts delicious flavors from each bean without getting any bitterness.
I've been sipping on Ratio's Ethiopia Geta Bora blend because it has just a touch of honey and peach flavors. The Ratio Eight brings out all of the sweet and floral tastes that I like, while balancing its slightly stronger acidicity… *chef's kiss*.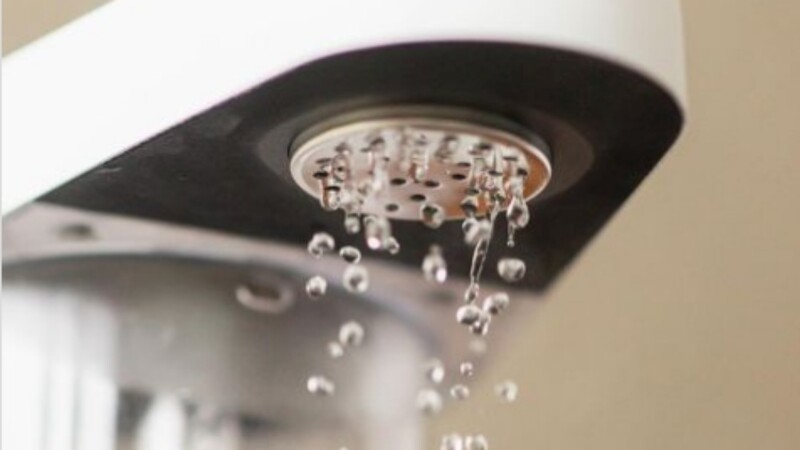 Cycle 2: Brew — Delivers a pour over that tastes barista-made
After less than 10 minutes in the Brew cycle, you're left with the perfect pour over. And I'll admit… it even brings out notes of flavors in my grocery store coffee grounds that I never noticed before.
The glass carafe's open filter design lets you fully experience your coffee.
I've been using Ratio's recycleable cone-shaped paper filters, but they aslo have a reusable stainless steel filter too.
With the open design, I can smell the rich flavors of the coffee filling my kitchen… hear the soft bubbling of the brew… and even see dark java as makes its way down the carafe one drip at a time.
It's actually pretty therapeutic… like watching an hourglass filled with coffee.
And if I don't have time to watch in the morning, I press the button and it's brewed in under 10 minutes… before I'm even finished getting myself ready.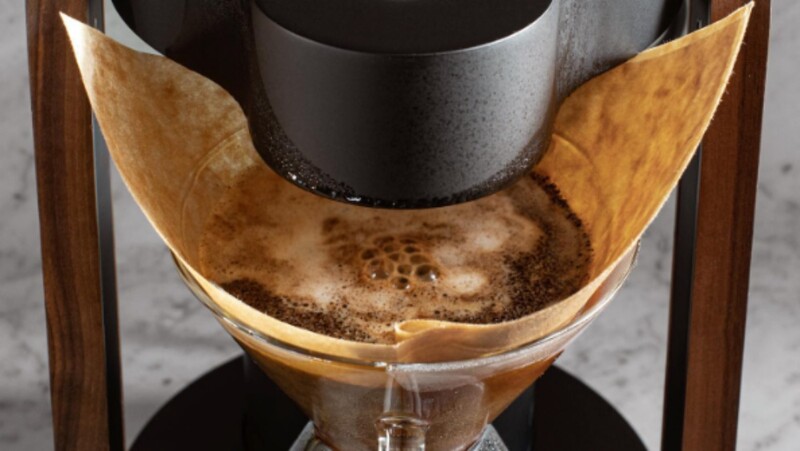 Cycle 3: Ready — Enjoy a fresh 200-degree pour over!
Every brew is ready when:
the coffee is a steamy 200 degrees

the bitterness is reduced

the flavors are carefully extracted from every bean
When the Ready cycle is lit up, you finally get to enjoy a pour over that's smoothe, delicious, and feels human-made.
This isn't the kind of coffee machine you hide in the cupboard… This thing is decor
I got the Ratio Eight, because it came with a hand-blown glass carafe, which I thought looked really cool… and I was right.
The carafe is like a cool pitcher… but for coffee.
When I serve coffee to guests, the glass carafe looks nice on a tray… and the silicone heat lid looks like its floating inside.
The machine's body is made from precision die-cast aluminum and it has stunning hardwood details.
This coffee machine comes in three different colors, but I got the bright silver version so that it would match my stainless steel kitchen.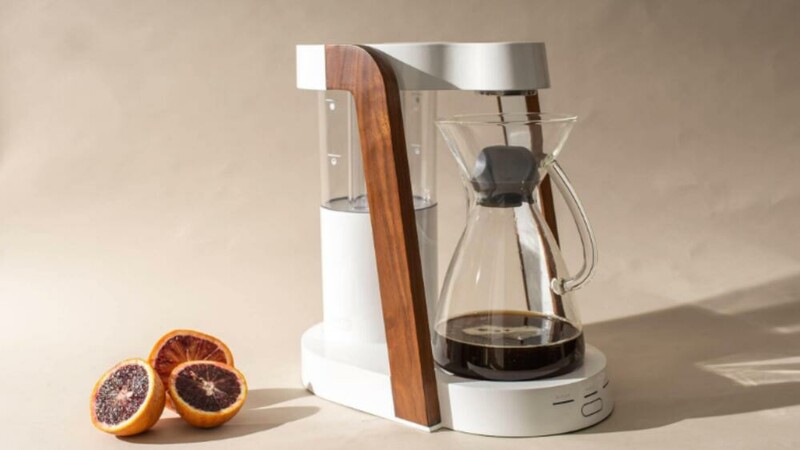 It has a 30-day guarantee & a 5-year warranty
All of Ratio's products have a 30-day guarantee… so you can try it out and decide if you love it before being stuck with it.
… and because Ratio believes in their quality, they even have a 5-year warranty.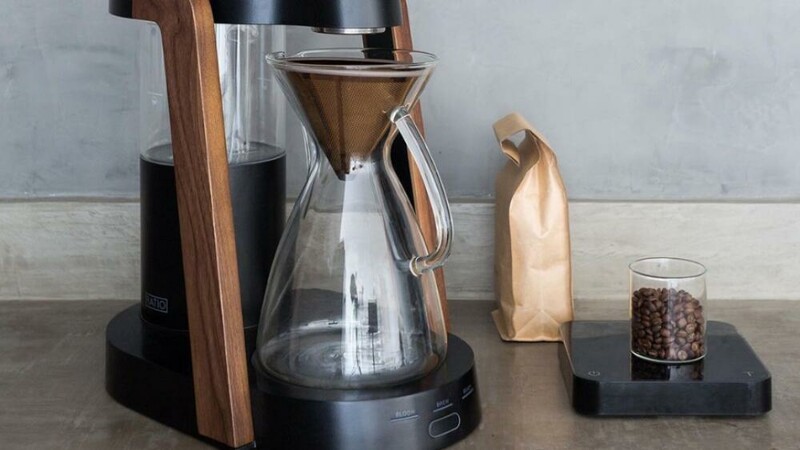 So should you buy Ratio?
Ratio set out to create a machine that can deliver a pour over quickly and perfectly at the touch of one button.
You don't have to stand there wondering if you're pouring water over the grounds too fast or if you're going to mess up the flavors in your brew. With Ratio… it will always be perfect and it will always taste good.
If you're still wondering if you should buy a Ratio, check out the over +100 reviews on their website.
A quick comparison
There are three different Ratio coffee machines to choose from, so you can pick what works for you.
I got the Ratio Eight that comes with a glass carafe. The Ratio Eight Thermal Set is basically the same, except it comes with a double-walled stainless steel thermal carafe to keep your brew warm for longer.
The Ratio Six is more affordable and slightly smaller compared to the Ratio Eight, but the Ratio Eight is made in the USA… and is way prettier.
After using Ratio for 6 months, I can confidently say… it lives up to the hype.
All Ratio coffee machines have a 30-day guarantee and a 5-year warranty, so you're not married to your choice.
You get:
the precision of a high-end coffee machine
the construction of a commercial coffee machine
the aesthetics of modern kitchen decor
the taste of a fresh barista-made pour over
a 30-day guarantee & 5-year warranty
If you want to give Ratio a go, check out the coffee machine selection on their website.