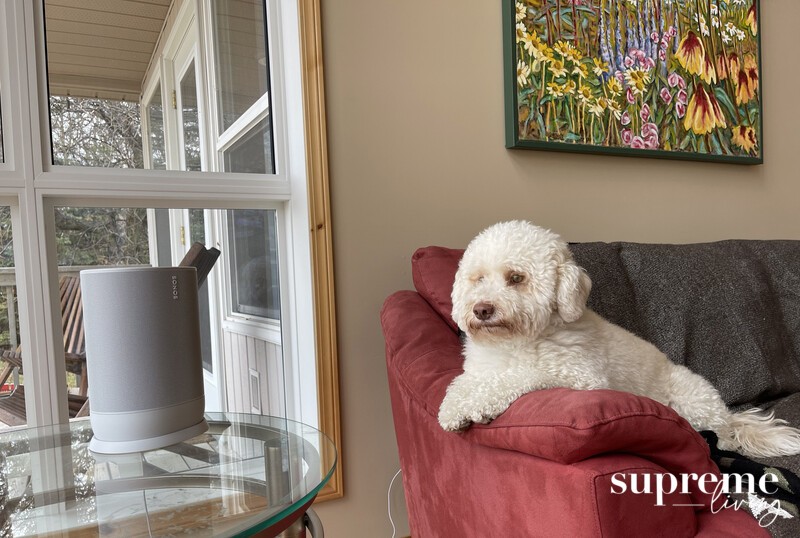 We may earn a commission for purchases using our links. Learn more.
I've been a Sonos user since the company's first-generation Play:5 speaker was introduced in 2009. Since then, no other tech company outside of Apple has managed to extract as much money out of my piggy bank. Seriously, I used to have so many empty Sonos boxes kicking around that I'd transform them into SonosMan, the audio superhero, as demonstrated in the image below. (Don't judge me ... )

Unlike Apple, that wasn't because Sonos products don't last a long time: they do. Rather, it's because I always want MORE SONOS. I just have to have Sonos speakers anywhere I spend a substantial amount of time. It sort of drives me insane if people don't have Sonos speakers. (Kidding ... sort of.) So beyond kitting out the obvious places like my home, my office, my wife's business, and my cabin with Sonos over the years, we've also ended up putting Sonos speakers in lesser but still frequently visited places like my parent's home, several of my friends' homes, and coworkers' homes.
Sonos is the only 'tax' I don't mind paying because the product is that good.
It (likely) makes me sound like an uptight audiophile douche, but nothing irks me more than going into a home and listening to music play from what these days are most likely to be a single, (likely) shitty Bluetooth speaker. Actually, scratch that. People who seriously play music from their smartphone's speakers as actual background music irk me even more — it doesn't matter how good a manufacturer claims its phone speakers are, the physics of a phone-sized speaker will never allow for it to be a proper full sound. The tinniness of phone-speaker audio makes my ears want to bleed.
If and when I encounter this, it drives me to deliver a sermon about why that particular audio offender should get Sonos for their home. And if they don't eventually give in to my rants and buy it for themselves, at some point for Christmas or a birthday, they get hand-me-down speakers from me, and I upgrade or replace my Sonos units.
At this point, I consider Sonos speakers a "tax." Like my wife's speeding tickets, it's just an unavoidable expense that's seemingly impossible to avoid. But it's the only tax I don't mind paying because the product is genuinely great. I can't imagine living without Sonos. For that reason, Sonos is easily one of my Favorite Top 22 Tech Things of 2022.
Please tell me you understand what Sonos is
I really hope if you're reading this, you've heard of Sonos. And even more so, I hope you already own some Sonos speakers. If you do, just quit reading this article, leave a comment for your chance to win Sonos speakers for free, and you won't have to listen to me preach.
How Sonos works
If you're still reading and you don't know what Sonos is, it's (still) the best multi-room speaker solution available for your home. Sonos speakers are Wi-Fi connected, which allows you to place them in various rooms of your home. You can group multiple speakers into a single room or zone, and from there, you can start streaming music. You can group rooms together to play the same song seamlessly throughout multiple rooms of your house, or you can stream different music to different rooms.
In other words, Sonos can make everyone in the family happy. On a typical morning in the life of CBK, my wife will have her own music going in our upstairs bedroom/ensuite while she gets ready for work; I'll have my music or a podcast going in my lower-level man cave office/gym; and our dog will be on paw patrol on the main level listening to lo-fi beats while staring out the front window looking for deer, cars, foxes, blowing leaves, or anything to bark at.
The Sonos app is easy to use and allows you to stream music from just about every good audio source out there, be it Spotify, Apple Music, Tidal, YouTube Music, Amazon Music, Soundcloud, or Audible. It even passes "The Erika Test." My wife (Erika), who hates every piece of tech I have tried to get her to use over the 18 years we've been together, is totally fine with Sonos. She likes it so much that she demanded we put Sonos in place at her business, which I was delighted with.
So much Sonos sound
When it comes to speaker variety, Sonos has steadily added different styles of speakers over the years to its offering, and I've owned almost all of them, with just a couple of exceptions.
Your standard speakers range in size from small to BIG, like the Play:1 and Play:5. The company makes home theatre speakers that can build out a proper surround sound environment and include soundbar models like the Sonos Ray, Beam, or Arc. These can be paired with a Sonos subwoofer to enhance your home theatre experience. More recently, Sonos started making its speakers more portable.
Sonos even lets you connect non-Sonos speakers to your setup.
The Sonos Move is a speaker I love that sits in your home on a minimalist charging base, and if you want to move your speaker or even take it outside, you can. As long as the Wi-Fi is strong, it will continue to stream Sonos, and if you go far away from Wi-Fi coverage, it will swap over to Bluetooth connectivity so you can still use it as a (really good-sounding) Bluetooth speaker. Sonos Roam is an even smaller version of the Move that looks more like a normal Bluetooth speaker — I haven't used this one yet as the reviews suggest it is ... less than up to my standards.
Beyond that, Sonos has components that provide more flexibility to your setup. Sonos Amps and Sonos Ports let you hook up your other audio gear to a Sonos streaming system, allowing you to use non-Sonos speakers. Sonos also works with Sonance to offer architectural speakers. So if you're building a new home or doing a gut and remodel, you can do ceiling-mounted speakers connected to (hidden) Sonos amps and have music fill the spaces of your home with no speakers in sight. In the photo above you can see the Sonos ports that power my in-ceiling speakers.
On the hipper side, Sonos recently released the Pro-Ject 1 T1 Phone SB Turntable, a record player that lets you easily play your vinyl through Sonos. I don't have this yet, but I will be getting it. (Psst. Santa. Psssssst. I'm hoping to find it under my Christmas tree this year! )
With Sonos, sweet dreams do come true
There are also confirmed rumors that Sono has listened to my 2018 plea to make Sonos headphones, and they apparently are coming! Be sure to read that post for all the reasons I want ... err, need those to exist.
All summed up, it's easy to understand why someone like me can spend so much damn money on Sonos. It's a modular system that you can grow over time; once you get started with one speaker, the addiction starts, and you just keep buying more and more and more.
Is Sonos really that perfect?
Look, no product is perfect. And despite my ongoing love affair and commitment, there are most definitely a few things about Sonos that can occasionally drive me batty. Such as ...
The cost
As noted above, Sonos ain't cheap. And once you buy in, you're going to want more Sonos. It's worth it, but brace yourself. If you're on the hunt for discounts, be sure to watch the Sonos website and the Sonos Amazon store. Sometimes you'll find deals on new or refurb'd units or speaker sets.
The audio quality
I'm sure at least some audiophiles reading this will complain the music quality is not good enough. I think Sonos typically sounds pretty great. More than the speakers, the constraint is the quality of the music being streamed. Because you're streaming versus running the music through cables, there will be some loss of quality, and it can vary between streaming services.
If you want the best-sounding streams, you'll want to subscribe to Tidal or Amazon. Tidal has long been the go-to for high fidelity, lossless audio streams, and more recently, Amazon's Music Ultra HD with Dolby Atmos sounds exceptional. That said, I still use YouTube Music a lot — it's a force of habit from my early Songza days (Songza was acquired by Google and became Google Play, then now became YouTube Music), and I don't mind the sound quality.
Drunk friends taking control of playlists
Once you're connected to the Wi-Fi Network in the home that Sonos is set up in, you can download the Sonos app to your phone and connect to it. Some of my friends have now figured this out, and because they're assholes, they hijack my Sonos and take over playing music when they come over. Sometimes this is OK. Other times it is not. I'm not sure why Sonos hasn't addressed this yet by adding a pin code to unlock the app. Maybe they did add some sort of feature that addresses this, and I've just missed it. If so, let me know in the comments. Please! Help!
The updates
Over the years, I've had several phone calls from my wife that basically amounted to "My Sonos isn't working. Fix it." Typically, it's because either she's out of sync for a long time on her updates on her Mac or the Sonos app. The typical fix is to ensure her Mac is always updated and Sonos is always updated, restart, and voila!
There was also some confusion when Sonos had to address legacy hardware and created a new Sonos S2 app which left out supporting some of the oldest, original Sonos speakers. This was a one-time issue a lot of people had to deal with. The good news is I sold my old legacy speakers that wouldn't work with the S2 app to a guy at my gym for pretty good money!
Life is too short not to have awesome music
I'll admit I've listened to less music in 2022 than in the years past. My new-found commitment and love of monotasking for brain health and max productivity made me realize that music can be a distraction, especially if it has lyrics (it's harder to focus on a task involving creating — like writing this article — if your brain is also trying to listen to words).
A life spent without high-quality music is just sad.
Like the dog, I listen to much more lyric-less music during the workday. Lofi Beats is always a good time. I've even found some awesome lyric-less lo-fi Christmas playlists that keep me productive and feeling festive.
That said, a life spent without music is sad. You can quote me on that.
Read more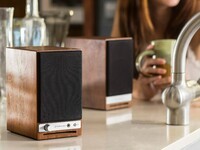 THE HUNT IS OVER
I'm a man of simple needs, though admittedly sometimes expensive ones. Here's how I ended up with a pair of Audioengine's HD3 speakers on my desk.