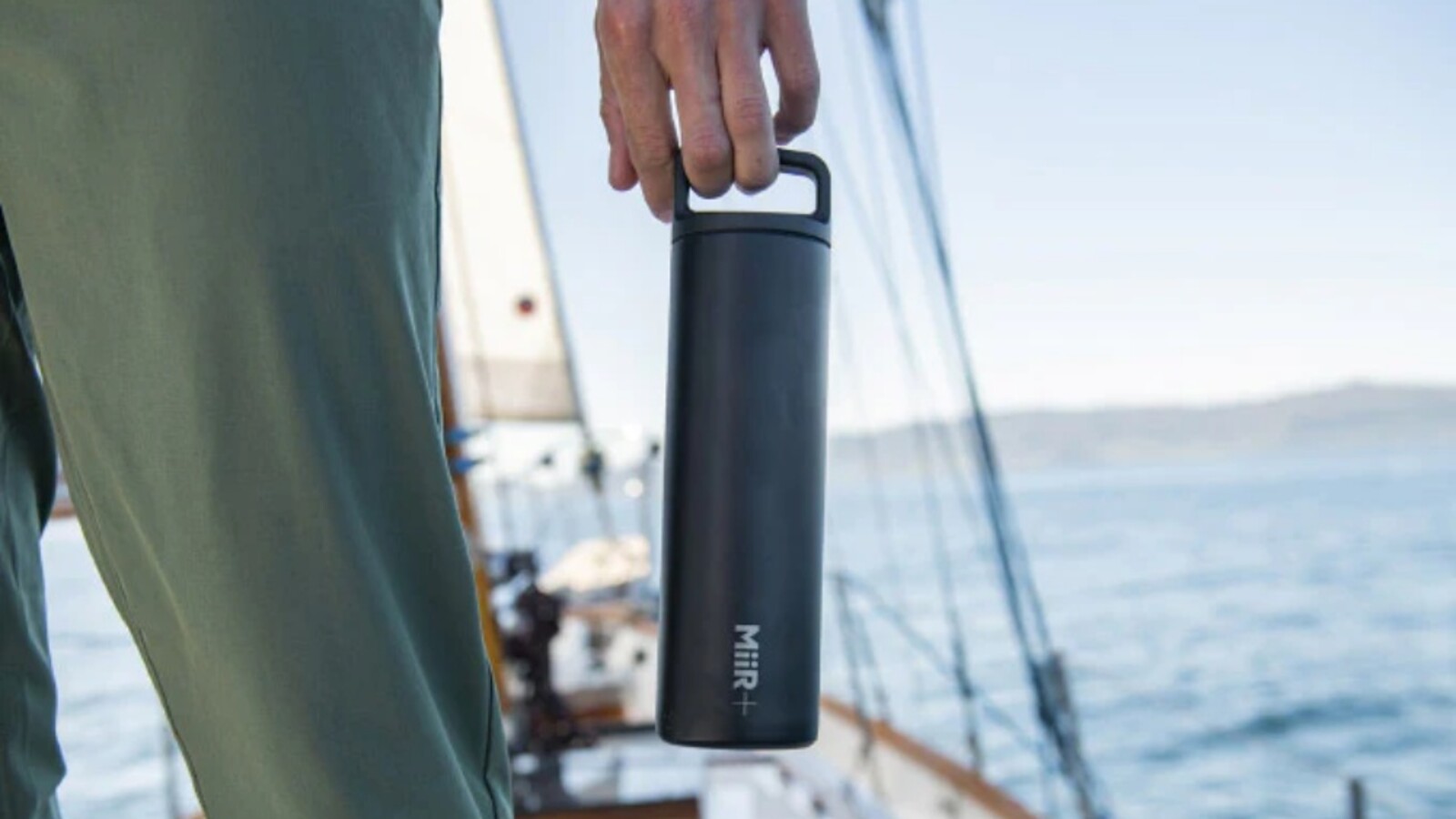 We may earn a commission for purchases using our links. Learn more.
Staff Pick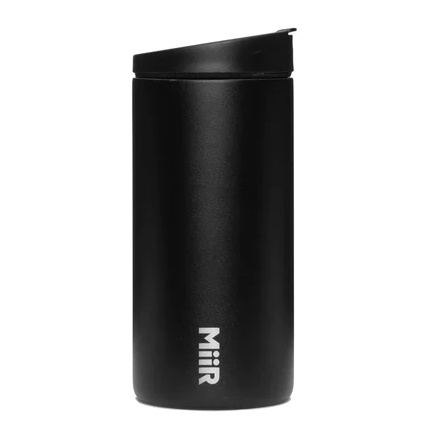 Sleek look | Insulated | Spill-proof
Insulated, spill-proof travel mug keeps coffee's hot for longer
I'm constantly on the go. Whether it's commuting to work, running errands, or going on wild adventures, I need a travel mug that can keep up. I need something that won't spill while I'm moving around and can fit in my cupholder without stressing me out.
That's why I'm totally obsessed with MiiR products.
Their mugs come with straws, have cool leakproof lids, are double-insulated, and fit perfectly in my hand or cupholder.
I always have one on hand, and yes, I have different ones for different activities because I love having options.
I have a favorite cup that:
Keeps my coffee hot for hours while I'm at my desk
Is leakproof for running errands
Keeps my water ice cold while im working out
If you're like me and need a reliable travel mug to keep your drinks hot or cold, MiiR has got you covered. Let me tell you about their top sellers.
What I Looked For
Durability Picking a travel mug that's dent-resistant and has a tough lid is important. It shouldn't shatter or break if you drop it.
Insulation A double-insulated travel mug will make sure that your drinks stay hot for as long as possible.
Style Good looks are essential. It should reflect your personality but still look cool and sophisticated.
Performance Making sure your travel mug helps you multitask is key. You should be able to drink, walk, and run errands without spilling or leaking.
This stainless steel mug is designed for the coffee enthusiast. It has an easy-to-hold design with an easy-sip lid. In fact, the lid has a flip-open mechanism and a bit of a scoop, so drinking without dribbling is pretty easy. Not only is the stainless steel mug double insulated, but the lid is insulated too. My coffee stays warm for hours.
Something I really like about this MiiR mug is that it's the perfect size for my palm. I can grip it firmly and flick open the lid without it slipping away. Plus, it's car cupholder-approved.
Staff Pick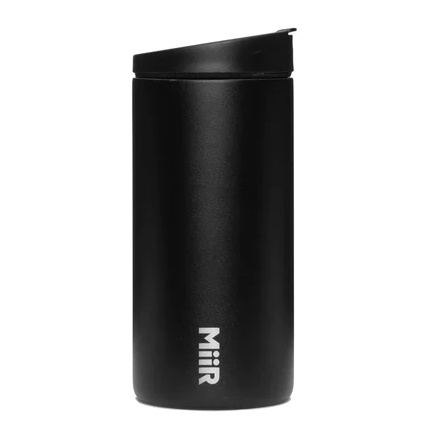 Sleek look | Insulated | Spill-proof
Insulated, spill-proof travel mug keeps coffee's hot for longer
Tested & Approved
MiiR travel mugs combine durability and style with performance. Every mug has a unique contemporary design that fits in your hand – and cupholder – and keeps your drink at the perfect temperature.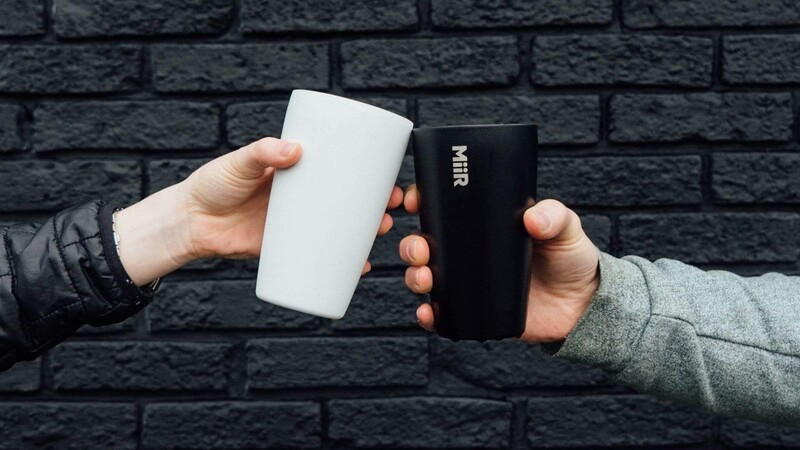 2) Tumbler
The MiiR Tumbler has a more traditional to-go coffee cup look. It's still slender enough to grip comfortably, but it can store up to 24 ounces… which is great for me because I love an extra-large brew.
This stainless steel tumbler is insulated, so it keeps hot drinks steamy and cold drinks icy. I'm a "drink my coffee with a straw" person, so I love that this travel mug comes with a Press-Fit Straw Lid.
Another cool thing about the Tumbler is that it's compatible with MiiR's Cocktail Shaker Lid… so, come 5 o'clock, I can enjoy my espresso shaken – not stirred – into a martini.
Runner Up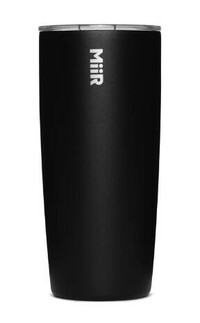 Hot & Cold | Straw & Cocktail Shaker Lid Compatible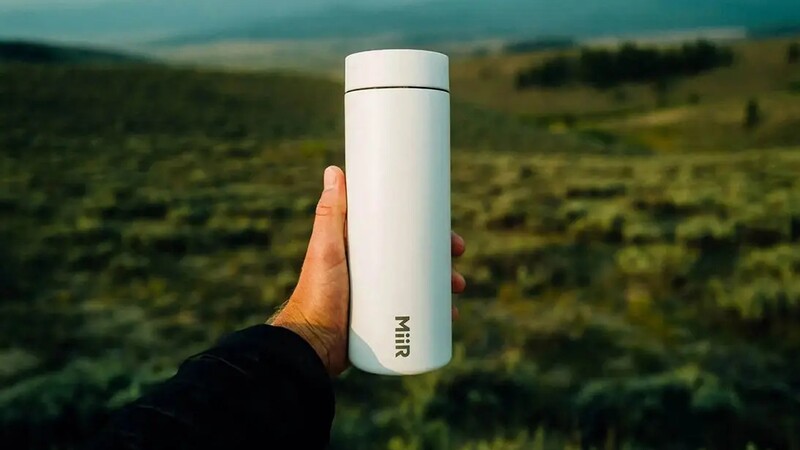 3) 360 Traveler
When it comes to picking a travel mug for everyday use, this one has got your back. It comes in seven nature-inspired colors, including cherry blossom and sandstone white. You can get your color fix without going overboard.
The Leakproof 360 Lid makes multitasking with this mug super easy.
All I have to do is press a button and the lid barely pops up to let me drink. It's cool because I don't have to turn it around or position it in any particular way… the coffee comes out at any angle.
The best part of the MiiR 360 Traveler mug is that when the lid is shut, it's really shut! I can pop this mug into my purse or backpack without it spilling or leaking all over my stuff.
Runner Up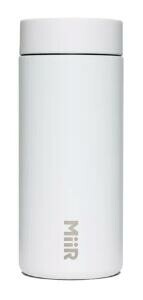 7 Nature-Inspired Colors | Leakproof 360 Lid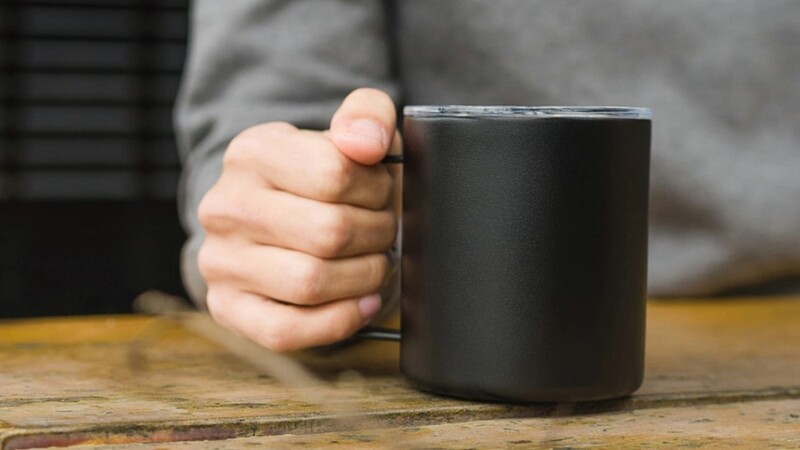 4) Camp Cup
The Camp Cup brings the comfort of home with you as you walk out the door. It has a sturdy handle that makes it easy to grip while on the go. And when you're walking, the Press-fit Slide Lid keeps your coffee in your cup and off the floor.
Out of all of the drinkware on MiiR's website, this is probably the most colorful cup they have. It comes in over 20 colors — bright, bold, and neutral — and it even comes in some fun patterns.
There's just something about an old-fashioned, traditional mug that makes coffee taste better.
This insulated coffee mug is one that I like to take out for short walks with my dog around the neighborhood or to use while I'm camping for an at-home feel.
Runner Up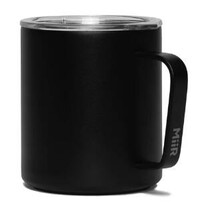 Most Colorful Line | Like a House Mug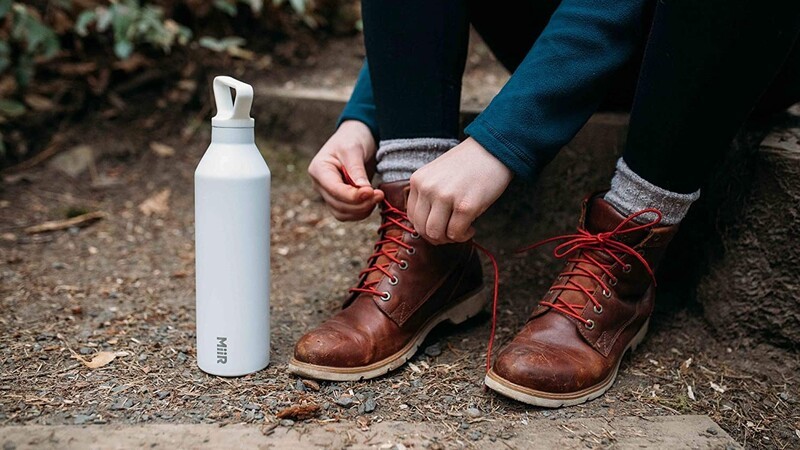 5) 23oz Vacuum Insulated Bottle
This narrow-mouth stainless steel bottle is perfect for cold drinks. It's double wall vacuum-insulated, so it keeps my water cool for hours. I like bringing this bottle with me on hot days because it's lightweight and I know my water will always be a nice cold temperature.
This bottle comes with a cool leakproof lid that twists on and off. It stays air-tight, so you can toss it in your gym bag without it leaking through.
The best thing about this travel bottle is that its lid has a built-in carry handle. It's super easy to hold while I'm running or hiking and its narrow mouth makes drinking easy too. Water never spills everywhere.
Runner Up

Cold Drinks | Carry Handle | Leakproof Twist Lid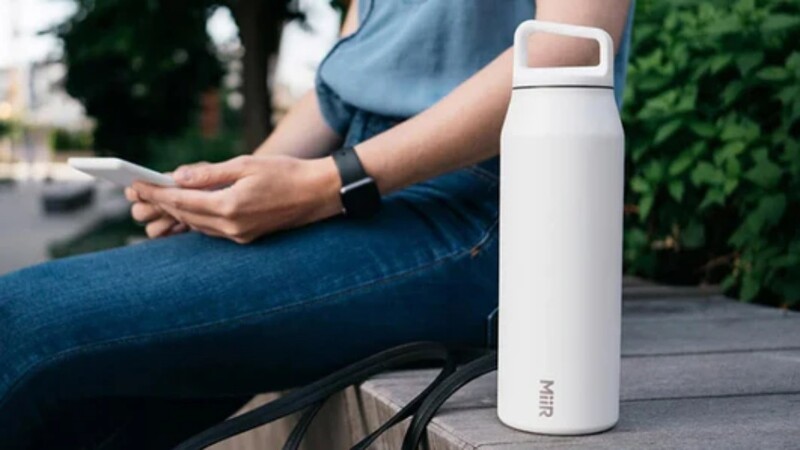 6) Wide Mouth
If you're planning on spending the entire day outdoors, this Wide Mouth travel bottle is what you need. Just like its name suggests, it has a wide mouth… and it's double-insulated.
This means that you can pack it full of ice!
On really hot days, instead of filling it with water, I stuff it full of ice that I can slowly plop into my cup to keep my other drinks cold and enjoyable. The double-insulated interior keeps the ice fresh for hours and when it finally starts to melt, you have a bottle full of cool water – win, win!
This MiiR bottle is my favorite for picnics because I pack it with ice to use later. If I don't want to take a cooler for my drinks, I bring this ice-filled Wide Mouth bottle with me instead.
Runner Up

Wide Mouth | Can be Used for Ice | Double Insulated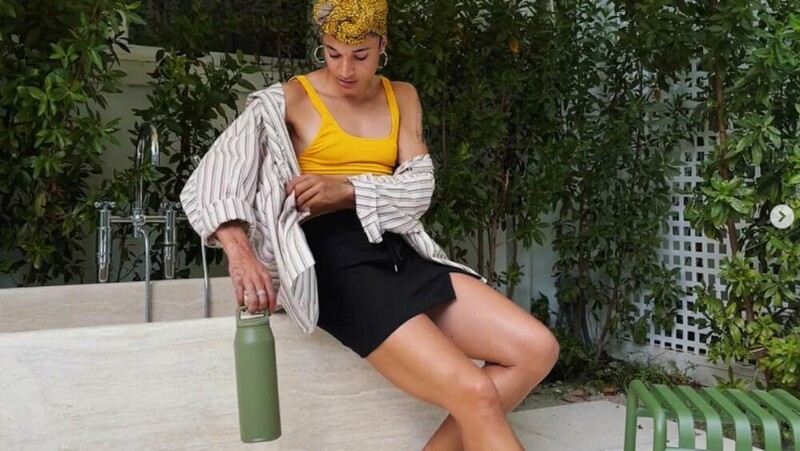 So Is MiiR Worth Buying?
MiiR products are an excellent choice for anyone looking for well-designed and high-quality travel mugs and bottles.
What sets Mirr apart is their attention to detail and commitment to creating products that are both functional and stylish.
Their products are made from durable stainless steel, designed to make drinking and multitasking easy no matter what you're doing, and come in a range of cool colors.
MiiR really does have the perfect bottle or mug for any activity, like the Camp Mug, Flip Traveler, and their 360 Traveler.
With fast shipping and a lifetime warranty on all their products, MiiR is a brand you can trust. So, if you're in the market for a new travel mug or bottle, head over to their website to check out their selection of versatile and stylish products.
Staff Pick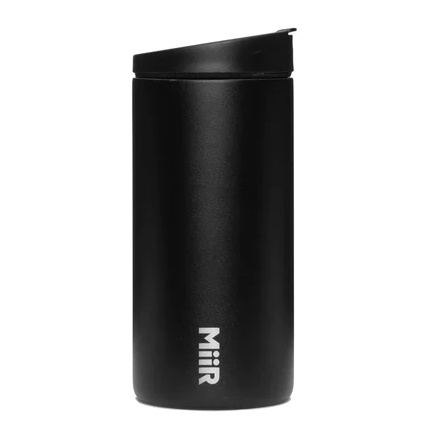 Sleek look | Insulated | Spill-proof
This Insulated & spill-proof travel mug keeps coffee steamy for hours.
Read more